We now offer the full range of Reagents and Buffers from Medicago.
- Now in a convenient tablet form.
- Just drop in and it's ready to use.
Pre-made buffers save time in daily laboratory work.
---
Plasmodipur Filter
The Plasmodipur filter effectively removes leucocytes from blood and facilitates the isolation of pure erythrocytes infected with Plasmodium vivax and infected with rodent malaria parasites, such as P. berghei and P. yoelii.
---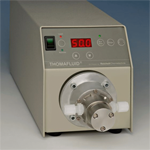 Reichelt Chemietechnik
Tubing, Filters and more.
Click here to visit the Reichelt site. 
---
NEW Smart D-N-Adem-Kit by Ademtech
- Capture and direct amplification: go directly to PCR and Real-time PCR without elution step
- Simple and fast: less than 10 minutes (lysis step included) at room temperature
---
Chicken Embyro Extract
Frozen or Lyophilized now available in our Westbury office